We use only "customer speak" and not some technological mumbo jumbo to impress our clients. Save your time and money by dealing directly with mobile phone repair professionals. We do not double-charge you by sending your phone away for repair. We are genuine professionals in mobile phone repair. You will be served by true blue mobile phone professionals who will provide you with fair and accurate information. In the event of an emergency, we can even provide pickup service around North shore areas. Most importantly, your rights as a customer should be protected by a real professional mobile phone repair laboratory. Your expensive phone and rights as a consumer are well protected under the prevailing New Zealand Fair Trading Act.
Contact Us
Feel free to give us a call today for a free quotation, we promise we will not waste your time. If you want to drop by our location, there are free street parking lots right in front of our repair centre in the middle of Takapuna Business Central. Most will promise you a lot, but we deliver.
Find Us
Find us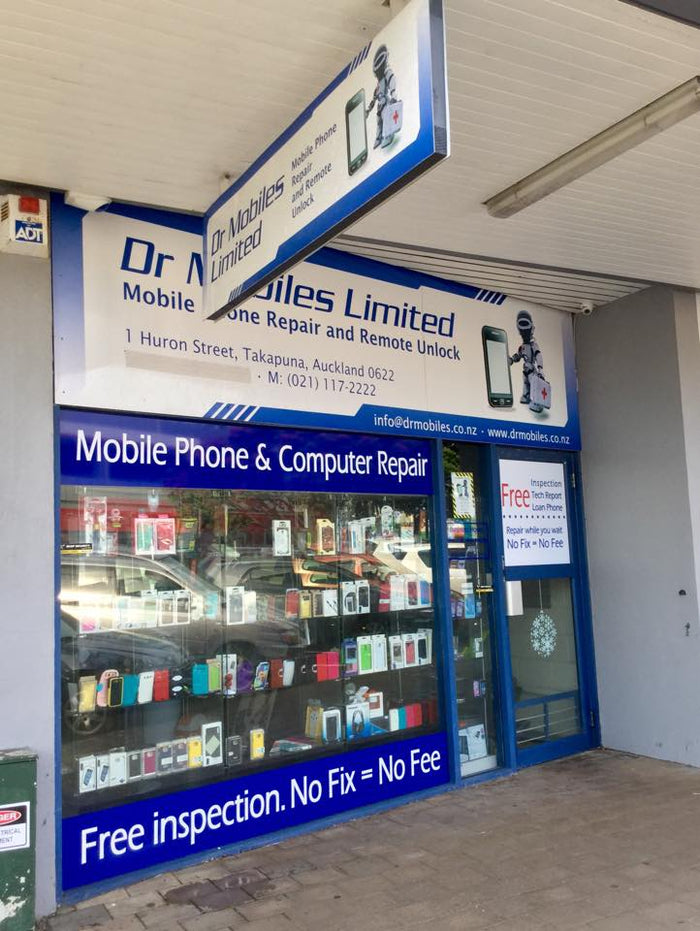 0800 429 429
info@drmobiles.co.nz
1 Huron Street, Takapuna
North Shore
Auckland 0622
New Zealand
Monday — Friday, 9:00AM — 6:00PM
Saturday, 9:00AM — 2:00PM
Sunday & Public Holidays, Closed
Kia ora and Greetings from Dr Mobiles Limited
Dr Mobiles Limited (3258448), NZBN: 9429031230759 started professional IT repair service since 3rd, February, 2011. The company is based at 1, Huron Street, Takapuan, Auckland 0622 for the past 13 years. Rafael Cabato and David Lim are the founders of the company. The directors have over 31 years of combined experience in the IT repair, corporate service and track record as authorized vendor for public sectors
Our Mission
To provide affordable and quality repair services to retail clients, corporate sectors, tertiary education institutions and government departments.

Dr Mobiles Limited is committed to sustainability and making a positive impact on both the environment and society as a responsible business entity.
Scope of Professional Service
We provide IT repair services for the following: hardware, software repair and insurance assessment and claims.
Accreditation
(1) Ministry of Social Development (Te Manatu Whakahiato Ora)
Authorized Supplier (MSD) Number: CUR002283008

(2) Authorized Repair Vendor No. 1039237 for IAG New Zealand Limited, largest insurance company Australia and New Zealand.
Hardware
We provide free inspections for damaged mobile phones, tablet and laptop computers
Hardware replacement service includes: replacing crack screen, replace batteries, install new Power IC on motherboard repair, broken hinge replacement for laptops. We are the leading repair center with vast experience for liquid damage repair for smartphones, tablets and laptop computers.
Software
We cater for our clients the following software services:
- Data migration, backup and recovery.
- Internal and external hard drive data recovery.
- PIN code removal, Apple ID and password recovery.
Insurance Assessment & Claims
We cater for professional damage assessment, insurance damage report and repair quote; this covers both travel insurance and home content insurance claims.
Corporate Service
We have been catering free pickup and return delivery for our corporate service since 2011; that is including the Government sector. Besides that we also provide emergency on-site repair.
Recycling for Earth
We provide recycling services for e-waste such as old smart phone, tablets, laptop computers. Our engineers diligently refurbishes these devices, transforming them into functional hardware and donating the repurposed hardware to underprivileged students overseas.
Customer Service Award
Dr Mobiles Limited the winner for the prestigious Best Customer Service Award in 2014, organized by the Takapuna Beach Business Association (based on online voting by retail customers in the North Shore area. We are humbled by this recognition, it is a testament to our unwavering commitment to keep our customer service above par. See what customers' comments about our service via Google Review.
Online Presence
We have been active online since 2011. Our blog http://doctormobiles.blogspot.com was started back in January, 2011. Currently clients get support and do online shopping at our official site www.drmobiles.co.nz Other than that, we keep in touch with our clients via Google Local Business, Facebook, Twitter and Instagram for over ten years now.
Summary
Dr Mobiles Limited takes pride in delivering exceptional IT repair services. Our team of experts is equipped with the latest tools and repair skills to meet the ever changing technology world. We are time tested and people-proven, give us a call today and we promise not to waste your time.